Message from the President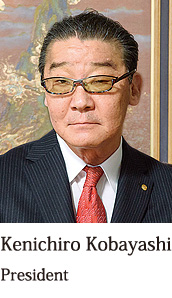 Kobayashi Industry Co., Ltd. was founded in 1952 in Honjo city, Akita prefecture (present-day Yurihonjo) as a ferrite processing business.
Since our founding, we have met the changing needs of our customers primarily through the production of various die and molds, design and manufacturing of grinders and compacting machines, and ferrite processing.
I would like to express our sincere gratitude to the many customers who have supported our company.
The fundamental principles we value are the spirit of challenge and intellectual curiosity. We have always sought after innovation in manufacturing technology.
The spirit and strengths of each and every one of our employees have earned us the trust of our customers by meeting the challenges they have presented. Going forward, we are committed to continuing to help our customers resolve issues through solid technologies.
As the world grows smaller, we will continue to take up challenges to be a company that goes beyond national borders to help our customers' business.
We hope you will continue to give us your encouragement and support.
Company information