CNC powder compacting machine
Mechanical design, electrical design, control program and HMI program have been developed in house.
A small deviation in tracking and an easy-to use operation have been realized with our control and software technology.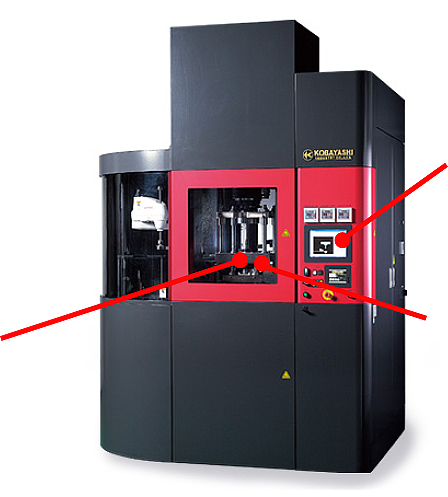 CNC powder compacting machine
〈Specifications〉

Uni axial

Multi axial (1–3 levels)

〈Powders to be pressed as an example〉

Carbide

Ceramics

iron powder

Etc.
Video of multi-level pressing Watch a video.
HMI(Human Machine Interface) See more information.
Die set See more information.
Features of our CNC powder compacting machine
Low energy ∙ Low noise ∙ Low maintenance cost
High rigidity
Designed based on FEM analysis
Keeps accuracy long
Rigidity
A gap sensor is affixed to the die plate to measure the relative gap disparity when the load between the die plate and upper punch plate is changed in order to gain a measured value of the slope of the approximate straight line when plotted on a graph.
Positioning accuracy
Repetitive positioning accuracy:±1μm
Excellent trackability using full-closed control
Design according to a customer's requirement.
Customized HMI provides a friendly and easy to use operation.
Press for Examination
We have a multi-level press which has the upper 3 and lower 3 platens.
Each axis has max. 20 ton capacity respectively.
You can make an examination with this press.
Please contact and inquire us about a mold and cost for the examination.
Contact us
Please direct inquiries about our CNC powder compacting machine to the in charge of Machinery Sales Group. This is also the contact point for applying for examination by demo machine.
+81-184-24-6110
+81-184-24-6100